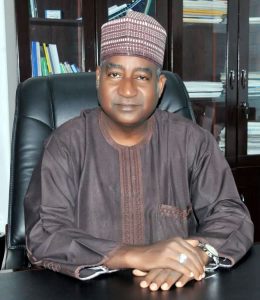 Prof. Mohammed Ajiya
President/CEO DBI
I am pleased to introduce the Digital Bridge Institute (DBI); Nigeria's foremost Centre of Excellence in Information and Communications Technology Training and Education with campuses in Abuja, Lagos and Kano as well as Yola, Asaba and Enugu yet to be commissioned.
DBI Training offerings are world-class as we strive to maintain the highest standards within the dynamic ICT industry. Our courses are designed to be directly relevant to current business, technical, managerial and commercial operations with emphasis on "best practices" world – wide. Whether your desire is to be an entrepreneur or to be part of an organizational team, our courses provide sufficient academic and professional preparation.
The Institute's ultra-modern facilities which include fully equipped training rooms, multimedia teaching aids, video conferencing systems, Wi-Fi Hotspot, Telecom Laboratory and Digital Resource Library guarantee a cutting-edge learning experience.
Our community of students is diverse, from aspiring young graduates to practicing professionals in several sectors. Studying at our Institute will afford you the opportunity of learning about the business and social culture of the Nigerian people through the cross section of participants and students enrolled in our programmes. Commencing this year, DBI has launched a bold e-learning programme titled DELTA (Digital e-learning Training Arena). Our participants are invited to take advantage of the free ICT programmes offered, in this testing phase of the project. Online Education is the new paradigm and DELTA is the product of the future that offers our clients opportunity for upscaling to remote locations and at their pace.
Since 2004, the DBI has trained over 60,000 professionals which cut across diverse sectors (both private and public).
Apart from training, the Institute aims to pilot initiatives such as indigenous software development, research with particular focus on cybercrime & security and electronic multimedia advancements using the instrument of ICT.
We invite you to empower yourself by enrolling at the DBI. We look forward to an opportunity of providing and excellent and rewarding experience.