As the world celebrates today, 11th February 2021 as the International Day of Women and Girls in Science, the Digital Bridge Institute wishes to draw the attention of the global community to the immense contribution of Women to the growth of Computing and Telecommunication and the need for the championing of greater participation of women in Science, Technology, Engineering and Mathematics (STEM), greater empowerment of women through ICT and the need for bridging the gender bias and imbalance in the Sciences.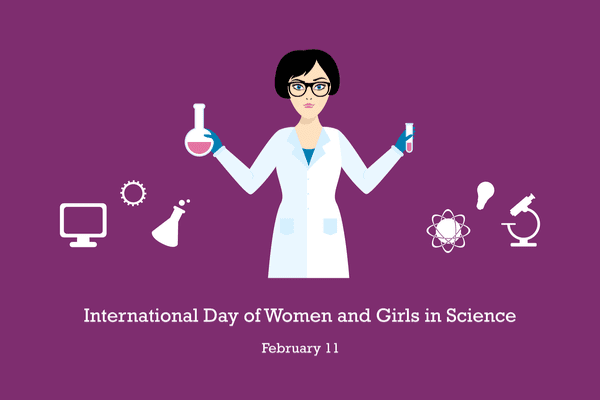 From the nascent days of Computing, women have played ground-breaking and critical roles. The women's role has been prevalent since the creation of the first computer program by Lady Ada Lovelace, to Grace Hopper in the development of computational methods and compiler construction, to Katherine Johnson in advanced human space exploration, to Nicole-Reine Lepaute's prediction of the Halley's Comet trajectory and Maria Mitchell's computation of the motion of Venus. Women's roles added in no small way to the existing body of knowledge in space exploration and how we understand the universe around us.  Some other women that have made significant contributions to IT include Ida Rhodes, Sophie Wilson, Adele Goldberg and Mary Lou Jepsen.
Since charity begins at home, it is pertinent we point out the amazing contribution of Nigerian Women in technology. Nigeria has never been in short supply of amazons of technology, from the pioneering work of the first female Professor of Mathematics, Professor Grace Alale Williams to Africa's first female Professor of Computer Science Professor Adenike Oyinlola Osofisan women have continued to make their fair share of contributions to development in IT. Some other examples of Nigeria female IT amazons are Professor Rita Orji, a Nigerian-Canadian  Professor Computer Science with works in the area of human-computer interaction with a major focus on designing interactive systems to achieve various health and wellbeing objectives;  Dr. Rabia Salihu Sa'id a female scientist at the Bayero University Kano.  Nigeria also has titans of the IT industry like Mrs Funke Opeke of the MainOne Cable Company and Late Florence Seriki of Omatek Computers. These are just a few of the many women breaking new grounds in Computing in Nigeria.
The International Day for Women and Girls in Science should serve as a call to order for the nation to consciously develop measures that would accelerate young girls' access to digital services and closing of the digital gender divide. If this is done, it would provide the opportunity for the nation to meet some of the sustainable development goals viz, achieve universal affordable internet access; ensure equal access to basic services and appropriate new technology for all; implement policies to empower women through technology; achieving quality education, and creating decent work and economic growth.
One of the quickest ways of bridging the digital gender gaps is to institute sustainable capacity building programmes and measures specifically targeted at women and girls.  These programmes should be geared to building digital literacy among women, adoption and use of technology by women in small and medium enterprises, and encouraging women to take up careers in Science, Technology, Engineering and Mathematics. Though it is not within the scope of this article to find all explanatory variables for the digital gender imbalance; its root cause is majorly because of background, culture, and environmental issues. This divide starts from the primary and secondary schools' level where it is perceived that the STEM professions are masculine thus lowering female enrolment in technology and engineering courses at higher Institutions.
The Digital Bridge Institute (DBI) is best placed to develop and deploy programmes aimed at addressing the digital gender gap challenges in Nigeria because of its national spread with campuses in the six geopolitical zones of the country. DBI has functional infrastructure, with a team of experienced faculty and tech experts. Its success in carrying out other capacity-building programmes have done a lot in boosting digital awareness and literacy in Nigeria.  Thus, government at all level and well-meaning individuals and organisations can take up the opportunity of engaging the Digital Bridge Institute to develop bespoke training IT programmes targeted at women and girls.
Finally, we wish to restate the comment of the United Nation's Secretary-General, António Guterres, who said  "On this International Day, I urge commitment to end bias, greater investments in science, technology, engineering and math education for all women and girls as well as opportunities for their careers and longer-term professional advancement so that all can benefit from their ground-breaking future contributions,"
Happy International Day of Women and Girls in Science!!
Image/Photo Credits:
epws.org, jaxenter.com