The President/CEO, Digital Bridge Institute, DBI, Prof Muhammed Ajiya has said that the objective of the 19th International Conference and Exhibition on Power and Telecommunications (ICEPT) is to provide a platform for technical and intellectual discourse between experts, practitioners, researchers, regulators, policymakers, and Government functionaries in view to offer professional solutions to prevailing societal problems.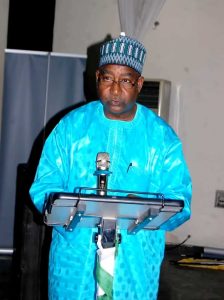 Ajiya was a Guest Lecturer on Tuesday , 10th October, 2023 in Kano at the conference organized by the Nigerian Institute of Electrical and Electronic Engineers (NIEEE)
In his lecture themed, *The Future of Digital Innovation in Nigeria*, the Prof Ajiya stressed that "Digital Innovation is the adoption and implementation of digital systems and technologies to bring about disruptions in the existing systems and all other areas of human endeavor.
The ICEPT, the inception of the Nigerian  Institute of Electrical and Electronic Engineers,  NIEEE in 2005,  is an annual international convergence of experts and researchers to showcase the outcomes of their work in any subdivision of Electrical Engineering and other allied disciplines.
The conference began on Monday, October 9 2023 with the marking of World Standards Day, followed by a seminar, technical activities, and an exhibition – papers and competitions from experts, researchers, and practitioners from across the globe.
According to the Guest Lecturer, "Digital Innovation is the application of digital technologies to facilitate existing business processes in efficiency, develop new products and services, or create new businesses and models"
While the future envisages wider adoption and application of smart systems and technologies – Internet of Things, Robotics, Big Data, Machine Learning and Artificial Intelligence, Cyber Security, and other disruptive technologies,  Prof. Ajiya posited that integration of these services through the provision of supportive infrastructure such as Power Supply and Telecommunication infrastructure, industrial framework and strategies are some of the key drivers of innovation in the digital technology which is at the forefront of national development. "All Nations of the world that are at the forefront of global economic activities realized their development through digital innovation," the PDBI said.
The DBI boss remarked "Digital Innovation has the potential to improve national development and transformation and bring more inclusive and sustainable development. It will also drive e-government, e-administration, e-transactions, e-commerce,"