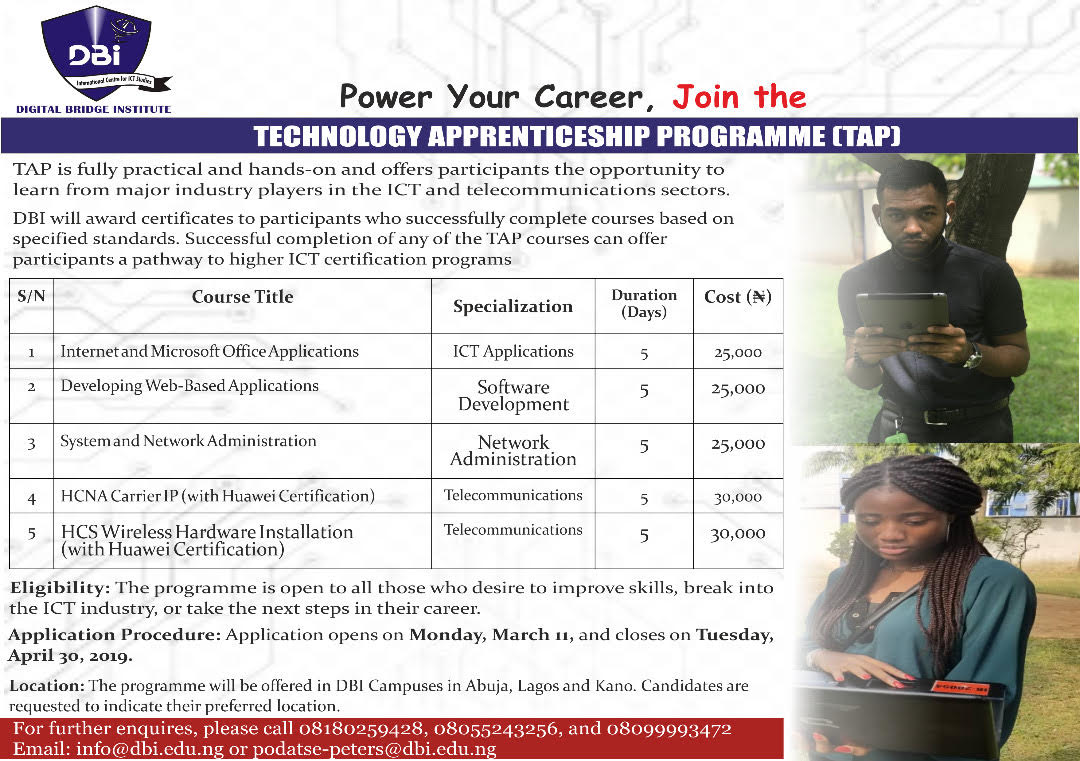 Technology Apprenticeship Programme (TAP)
Power Your Career, Join the
TECHNOLOGY APPRENTICESHIP PROGRAMME (TAP)
The Digital Bridge Institute, a subsidiary of the Nigerian Communications Commission, pursuant to its mandate of digital skills development, is launching the Technology Apprenticeship Programme (TAP). TAP is a digital skills development programme designed to offer opportunity to young Nigerian adults to acquire or upgrade their ICT skills and increase their employability and entrepreneurial potentials.
The goal of TAP is to help participants gain the skills and knowledge needed to succeed in the ICT industry and prepare them to be competitive and ready for jobs in their chosen field. In addition, the programme affords participants the opportunity to explore the various aspects of the industry in order to discover their areas of interest and competitive advantage.
The initial launch of the programme has been highly subsidized to make it affordable for as many young Nigerians who have the passion for in-demand digital-based occupations at vocational or professional levels. Interested participants should register for this once in a lifetime opportunity!
Enroll Now!
Courses available at near give-away prices:
S/N
Course Title
Specialization
Duration (Days)
Cost (₦)
1
Internet and Microsoft Office Applications
ICT Applications
5
25,000
2
Developing Web-Based Applications
Software Development
5
25,000
3
System and Network Administration
Network Administration
5
25,000
4
HCNA Carrier IP (with Huawei Certification)
Telecommunications
10
70,000
5
HCS Wireless Hardware Installation

(with Huawei Certification)

Telecommunications
10
70,000
TAP is fully practical and hands-on and offers participants the opportunity to learn from major industry players in the ICT and telecommunications sectors.
DBI will award certificates to participants who successfully complete courses based on specified standards. Successful completion of any of the TAP courses can offer participants a pathway to higher ICT certification programs.
Eligibility
The programme is open to all those who desire to improve their skills, break into the ICT industry, or take the next steps in their career.
Application Procedure
Application is now open for all. Classes resume across Lagos, Abuja and Kano campuses. HCNA Carrier IP and HCS Wireless Hardware Installation are exclusive to the Abuja campus and have been expanded to cover two modules per course.
Discount available for group registrations.
Enroll Now!
For group registrations and further enquiries, please call 08180259428, 08055243256, and 08099993472
Email: info@dbi.edu.ng or podatse-peters@dbi.edu.ng
Course Outlines:
View TAP Course Outlines