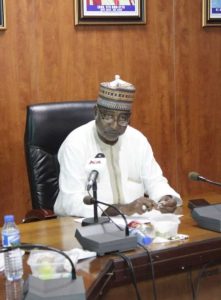 The Abuja Amazons (AA) Compendium and Abuja Amazons Merit Awards on Tuesday, 12th September, 2023 held its formal Inauguration of the Project Management Committee at the Digital Bridge Institute, DBI, Abuja Campus.
The DBI President/CEO, Prof. Mohammed Ajiya, during his address at the Inauguration, stated that it is a distinct privilege and honor to be a part of the ABUJA AMAZONS (AA) COMPENDIUM PROJECT. He extended his heartfelt regards to everyone who came together to support the meaningful initiative.
Prof. Ajiya stressed further that the inaugurated committee marks the beginning of an exciting and important journey that was sparked by the vision of a young lady: *Miss Asmau Ahmad*. "Her unwavering commitment to celebrating the achievements of remarkable women and her dedication to creating a compendium that honors their legacies have brought us here today." said Prof. Ajiya
The DBI Boss stressed further that the project has not only compiled a compendium that recognizes the outstanding accomplishments of these exceptional women but also served as a source of inspiration for generations to come.
He appreciated and acknowledged the dedication and commitment of each member of the committee adding that he was confident that
together, they create a compendium that reflected the the incredible diversity of women's achievements and their immeasurable contributions to society.
"I am filled with excitement and optimism for the journey ahead. Together, under the banner of ABUJA AMAZONS (AA) COMPENDIUM, we will compile a compendium that not only celebrates excellence but also empowers women and inspires future generations," he said.
Other dignitaries at the event include Dr. M. A Ibrahim mni, Director in the Presidency at the BPSR, Senior staff members of the DBI Management, and other distinguished guests.