The Membership of the Association of Information Technology Professionals (AITP) on Thursday, 13th September, 2023 paid a courtesy visit to Digital Bridge Institute, DBI to extend a heartfelt appreciation to the Institute.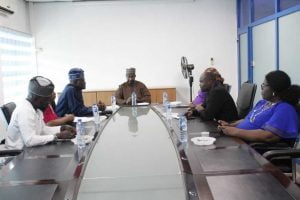 The association expressed her gratitude to the President/CEO, DBI Prof. Mohammed Ajiya, and the esteemed management team for their unwavering
supports and active engagement since the inception of AITP.
Prof. A.A. Obiniyi who led the team of AITP stated that the association was particularly grateful for DBI's invaluable contributions to the success of the AITP ITED 2022 Conference, which took place at Nile University under the theme "Changing the Narration: Building a Secure Society with Information Technology."
He added that the AITP wished to seek strategic collaboration to ensure success in the forthcoming workshop, and DBI's presence and participation will play a pivotal role and elevate the workshop to heights of excellence.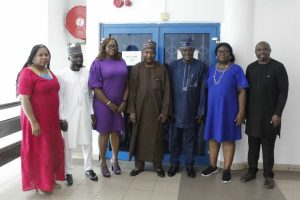 The DBI team was led by DBI President/CEO, Prof Muhammed Ajiya, Group Head, Corporate Services, Ms. Viola Askia, Group Head, Research Innovation and Consultancy, Mr Paulinus Ugwoke and Group Head of Learning and Development, Mrs. Ngozi Nwoche.
Signed:
Akin Ogunlade
Head, Public Affairs Unit
Digital Bridge Institute
14th Sept. 2023.