DBI Host ITU Annual Regional Human Capacity Building Workshop
The Digital Bridge Institute hosted the ITU Annual Regional Human Capacity Building Workshop on "Strengthening Capacities in Internet Governance in Africa" ​ from 27-29 August 2018 at the Shehu Musa Yar'Adua Conference Center Abuja. The workshop was organized by the ITU Telecommunication Development Bureau in partnership with DiploFoundation and the Digital Bridge Institute.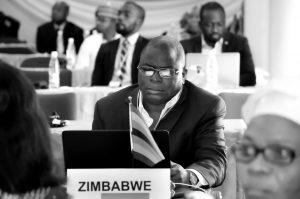 Speaking at the opening ceremony of the event, Dr. Ike Adinde, Administrator DBI said that the objectives of the workshop were to strengthen capacities of the ITU membership in the field of Internet governance and to provide a general overview of key aspects related to international Internet governance discussions. ​
This corresponds to the outcomes of the ITU World Telecommunication Development Conference (WTDC) 2017, where ITU Member States agreed that capacity building of the ITU membership in international Internet governance is one of the priority issues to be addressed by ITU's capacity building programme.
The Executive Vice Chairman (NCC), Prof. Umar G. Danbatta, in his keynote address at the workshop stated that Nigeria and other African countries should take cognizance of the digital economy eco-system and generate critical mass of ICT adoption to benefit from the next industrial revolution. He further opined that digital eco-system drives social and economic transformation and Africa needed to key in quickly.
The workshop which is the second in a series of regional Internet governance capacity development events that the ITU is organizing in collaboration with other stakeholders was well attended with delegates drawn from over 30 countries in Africa and Europe.