One cannot but celebrate a good leader who exhibits courage, passion, confidence, commitment, and talents and builds teams committed to achieving common goals.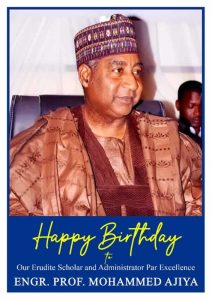 It is not too much to celebrate a magnificent technocrat who inspires confidence in building, rebuilding,  and reshaping the workforce within an organization as well as the future of the young generation. This has made him bagged awards from youths and student bodies in Nigeria.
He fosters respect and creates a conducive working environment and financial sustainability for the greater success of the organization.
This piece is referring to no other person than Engr. Prof. Mohammed Ajiya, the President/CEO of Digital Bridge Institute (DBI) the training arm of the Nigerian Communications Commission, NCC.
Over the years, Prof. Ajiya has paddled the affairs of DBI to greater success in terms of being prudent and displaying highly high-level management skills. This has earned him another tenure to continue his role as the CEO of DBI as one good turn deserves another.
Prof Ajiya holds Bachelor's and Master of Engineering degrees in Electrical Engineering from Bayero University, Kano. He obtained a Doctor of Philosophy (Ph.D.) degree in Optical Communication Engineering from the University of Putra Malaysia. He also obtained a Certificate in Advance Studies in Academic Practice (CASAP) from Newcastle University, United Kingdom.
He is a seasoned academic with several years of experience lecturing at Bayero University Kano. He has over 100 research-based academic articles published in both citation–indexed and Non citation-indexed journals. He has delivered several keynote speeches at conferences, seminars, and workshops.
He is a recipient of many honors and awards including 2000 Outstanding Intellectuals of the 21st Century, Top 100 Global Engineers in the year 2011, and the International Einstein Award for Scientific Achievement by the International Biographical Centre, Cambridge, England the UK.
Prof Ajiya is a proud member of respectable professional institutions including Fellow of the Nigerian Society of Engineers (FNSE), Fellow of the Higher Education Academy of the United Kingdom (FHEA), Fellow of the Nigerian Institute of Electrical and Electronic Engineers (FNIEEE), Fellow of the Institute of Industrialist and Corporate Administrators of Nigeria (FIICA), Member of the United State of America Institute of Electrical and Electronic Engineers (MIEEE), Member Society of Photo-Optical Instrumentation Engineers of America, (MSPIE) and Member Optical Society of America (MOSA).
Prof Ajiya is married and blessed with children.
The entire Management and members of staff of Digital Bridge Institute, DBI, wish Prof. Mohammed Ajiya, a birthday filled with happiness and a year filled with joy and happiness.
Hope your special day brings you all that your heart desires.
Congratulations, Sir
Akin Ogunlade
Head, Public Affairs Unit
Digital Bridge Institute
Abuja.